Cheese and artichoke soufflé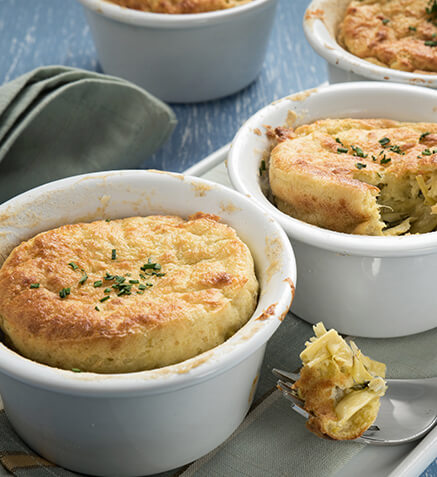 6 portions
Ingredients
1 cup de Mr. Cook Artichokes
3 tbsp de Wheat flour
5 de Eggs
1 cup de Milk
2 1/2 tbsp de Butter
1/4 tbsp de Nutmeg
1 cup de Gruyere chesse
2 tbsp de Parmesano cheese
1 pinch de Salt
Preparation
Preheat the oven to 375 ° F. Enmantequille 6 dishes for soufflé or molds.
Heat the milk, meanwhile, melt the butter, add the flour and beat for about 3 minutes.
Pour the hot milk, stirring until smooth. Return to the heat and cook, stirring constantly until thick, 2 to 3 minutes.
Stop the fire; add salt, nutmeg and egg yolks. Add the artichoke.
Beat the egg whites in another bowl on the brink of snow.
Stir everything with the other mixture and gradually sprinkle Gruyere cheese. Place on the soufflé plate.
Bake until soufflé is browned on top, about 25 minutes. Serve immediately.