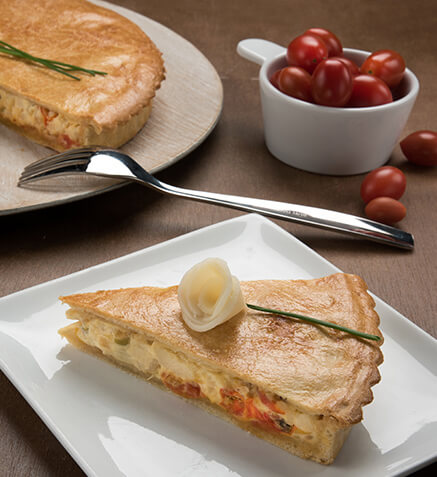 4 portions
Ingredients
2 tbsp de Olive oil
1 tbsp de Chopped olives
1 tsp de Garlic
1/2 cup de Brocolli
1 unit de Red onion
1 can de Hearts of palm
2 1/2 cup de Wheat flour
2 unit de Yolk
1 tbsp de Gustadina sweet corn
1/2 cup de Cold butter
1 cup de Cream Chesse
1 tbsp de Gruyere chesse
1 cup de Cherry tomatoe
1 cup de Yogurt
1 pinch de Salt
1 pinch de Pepper
Preparation
Filling
Sauté the onions in olive oil, add the tomatoes the HOP´s in cubes, olives, salt and pepper.
Cook for a couple of minutes, add cream cheese, Gruyere cheese, sweet corn and half a tablespoon of flour.
Cook for a couple more minutes until the cheese melts and the texture becomes creamy. Transfer to another container.
Dough
Add the rest of the flour and salt in a large bowl; mix the butter and flour, then add the cold yogurt.
Let stand in the fridge for 20 minutes.
Cut half the dough in a circle and cover the bottom and sides of a mold.
Add all the filling, open the second half of the dough and cover the foot.
Brush the egg yolk on the dough. Bake at 375 ° F for approximately 40 minutes.